Governors
It is with pride that we as governors work in close partnership with the staff and parents of this excellent school.
Our role in the day-to-day running of the school is varied but the majority of our work focuses on the policies and strategic direction that the school follows.
The make-up of our governing body represents a cross section of our community, both in age and experience, in order to ensure that we have the widest possible range of views influencing the decisions we have to make. We currently have 2 different committee meetings a term:-
· The Finance and Staffing Committee, which as the name suggests, deals with the money and people.
· The Main Governing Body, which writes and maintains the policies and supports the Head Teacher and her staff in their challenging job of delivering high quality education to our children.
The Governing Body always welcomes feedback from the parents and children of the school and this can be by email to the school at admin@oldleake.lincs.sch.uk or in writing to the address below.
Andrew Higginson
Chair of Governors
| | |
| --- | --- |
| Name | Category |
| Andrew Higginson - Chairperson | Partnership Governor |
| Susan Rayner | Headteacher – Ex-officio |
| Rebecca Pearson | Staff Governor |
| Vacancy | Parent Governor |
| David Simmonds | LA Governor |
| Emma Barton - Vice Chairperson | Partnership Governor |
| Claire Needham | Co-opted |
| Carole Rodgers | Clerk to Governors |
| Anna Gibson | Parent Governor |
Old Leake Primary & Nursery School Governing Body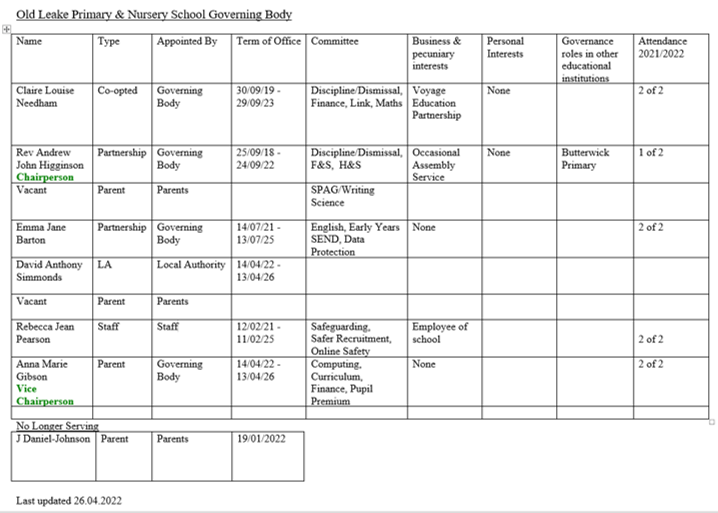 Correspondence for the Chairman of Governors or the Clerk should be addressed to:
Old Leake Primary and Nursery School
Old Main Road
Old Leake
Boston
Lincs
PE22 9HR