Healthy Schools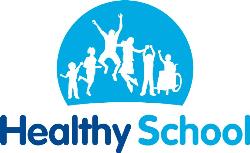 Having attained the National Healthy School Standard in March 2009, the school supports many healthy initiatives and activities.



There are 4 areas to achieving the Standard:

- Physical Activity (includes small & large movements, parachute games, Walk to School Week and encouraging cycling to school)

- Healthy Eating (educating children about healthy food choices and cooking clubs. Key Stage 1 children receive a free piece of fruit each day. Children are provided with a water bottle in the classroom to enable them to access a drink throughout the day. The healthy tuck shop is run by the children - see price list below)

- Emotional Health & Well Being (Learning Mentors, peer mediators and playground buddies. Pupil voice through class and school council)

- PSHE (staying safe, enjoying and achieving, making positive contribution and economic wellbeing through assembly and out of school activities)

Healthy snacks are available to buy from the Healthy tuck shop, which is open before school and at break times.

Dunkers - 30p

All Cereal Bars/ Fruity Bags - 30p

Yoghurt Tubes - 20p

Yoghurt Drinks - 25p

All Cheesey Sticks - 30p

Snack a Jacks - 45p

Fruit Shoots - 35p

Raisins - 15p


All baked Crisps/Crackers - 35p