Healthy Schools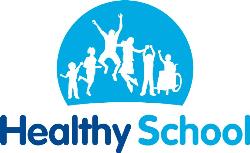 Having attained the National Healthy School Standard in March 2009, the school supports many healthy initiatives and activities.



There are 4 areas to achieving the Standard:

- Physical Activity (includes small & large movements, parachute games, Walk to School Week and encouraging cycling to school)

- Healthy Eating (educating children about healthy food choices and cooking clubs. Key Stage 1 children receive a free piece of fruit each day. Children are provided with a water bottle in the classroom to enable them to access a drink throughout the day.

- Emotional Health & Well Being (Learning Mentors, peer mediators and playground buddies. Pupil voice through class and school council)

- PSHE (staying safe, enjoying and achieving, making positive contribution and economic wellbeing through assembly and out of school activities)